Best Danish Design Watches Under 500 Dollars
Best Watches
For Men
Under 500 USD

Get a free strap to go with your watch. Enjoy this limited time offer by adding your extra strap to your basket and using the code FREESTRAP at checkout.
Shop award-winning design watches at an affordable price under 500 dollars.
Nordgreen has a number of great watches for you to choose from. All representing authentic Scandinavian design. These are the top men's watches under 500 dollars. With your choice of Philosopher, Native or Infinity, express your own personal men's style.
Nordgreen's best sellers under 500 dollars
So where should you start? We suggest our list of our best men's watches under 500 dollars. Here you can for instance choose our Philosopher in rose gold with brown leather strap. Be a man of action with this watch and celebrate your passion for critical thinking. This is the watch for when you want to do more than blend in.
Or you can choose the bestselling Philosopher in silver with black leather strap. This stylish watch will complete any power statement. Take charge when you wear this piece. Another great bestseller is the rose gold Native with brown leather strap. It expresses the well-balanced nature of Copenhagen with its toned down look and simple clock face. This simple minimalism is what makes it stand out as a characteristic Scandinavian timepiece.
Read More
Read Less
Elegance and functionality combined
Inspired by
active lifestyles,
designed to
endure them
Pioneer resembles a technical device by combining a stopwatch function with multiple sub-dials, while maintaining a clean and uncluttered composition.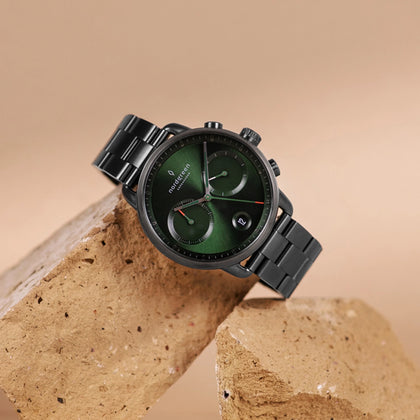 Pioneer I Textured Grey Dial - Black Leather Strap Shop Now
Crafted as a timepiece that pushes the boundaries of a watch
Powered by Japanese quartz movement, this well-balanced chronograph is designed with long-standing precision and functionality in mind.