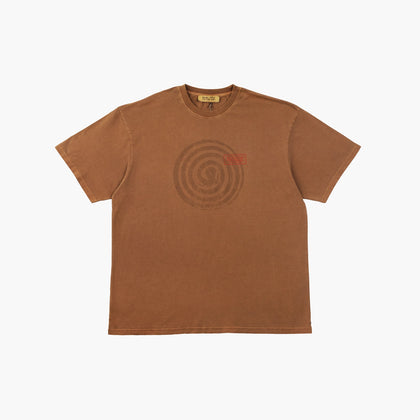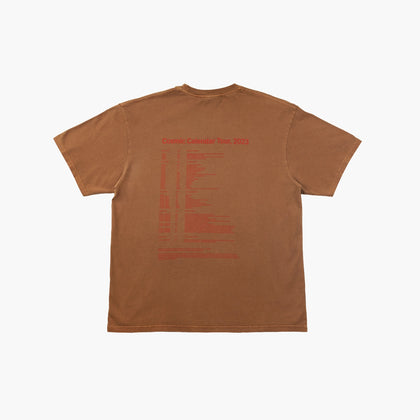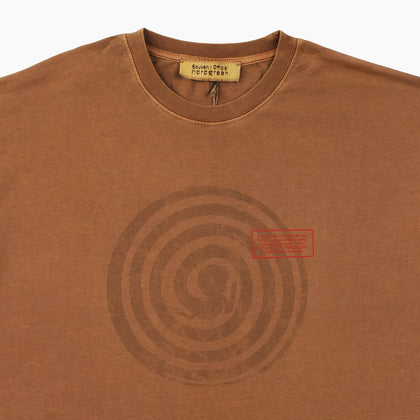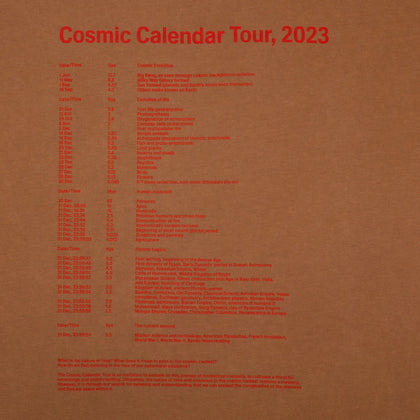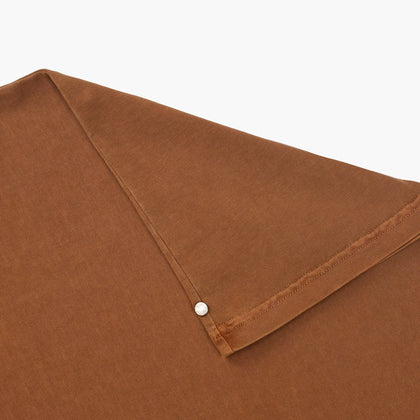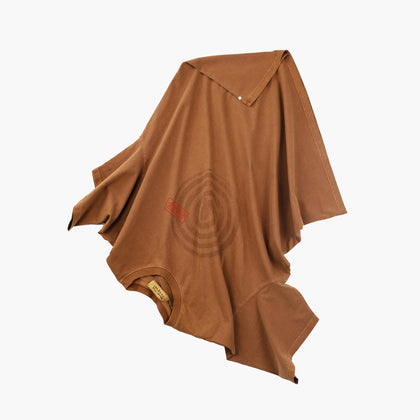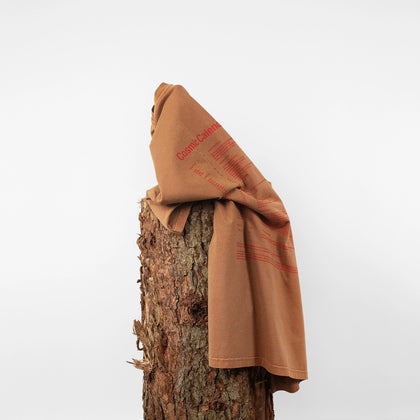 Limited edition
Souvenir x Nordgreen
T-Shirt
This is more than just a T-Shirt; it's a statement. The T-Shirt provides a comfortable 230gr/sqm experience. The piece
showcases a Mayan plate with monkey tail in spiral combined with the reminder text print on the
front. It also has the Cosmic Calendar Tour print on the back.

Spiral human with text design print on front
Cosmic Calendar Tour print on back
Natural Nano Earth Dye, combining nature and science
100% Organic cotton (certified)
Heavy jersey (230gr/sqm)
Made in Portugal (EU) by labor and eco-friendly factory
GOTS certified and using 43% solar energy
Compostable bio-plastic packaging (PLA 7)
Unisex boxy cut fits true to size
What is the nature of time?
What does it mean to exist in the cosmic context? Ultimately, the Cosmic Calendar offers a philosophical perspective that transcends the boundaries of time and space. It calls upon us to reflect upon the delicate balance between insignificance and significance, to find meaning in the face of cosmic indifference, and to revel in the awe-inspiring beauty of the universe.
Unisex boxy cut fits true to size
100% Organic cotton (certified)
Loopback heavy jersey (230gr/sqm)
Dyes of natural origin (mineral extracts), together with state-of-the-art nano particle technology
Less dye surplus, clean work environment, less water consumption
Lower dyeing temperature & shorter bathing ratio
Hand wash cold
Do not bleach
Iron low
Do not dry clean
Do not tumble dry
Each hangtag is dipped by hand
Then hung out to dry
The colour is a combination of petals, bloodwood tree bark and walnut shells
Souvenir x Nordgreen is a collab investigating the history of cosmic time
In the film by Florence de l'Olivier a couple is portrayed on their journey of life.
The entire campaign was produced locally. Everyone involved lives on the island. We wanted to set an example and try to make production as sustainable as possible.
The campaign was shot at the Necropolis de Son Real on Mallorca. It is one of the most important sites in an archaeologically rich area and one of the most emblematic in Balearic archaeology.
The creative narrative is about the transcience of life and follows a couple from childhood through adulthood to old age as they search for the nature of time.
The Souvenir x Nordgreen collab
is an invitation to be inquisitive
A collaboration anchored in
the history of the cosmos
Explore the native collection
Souvenir x Nordgreen t-shirt