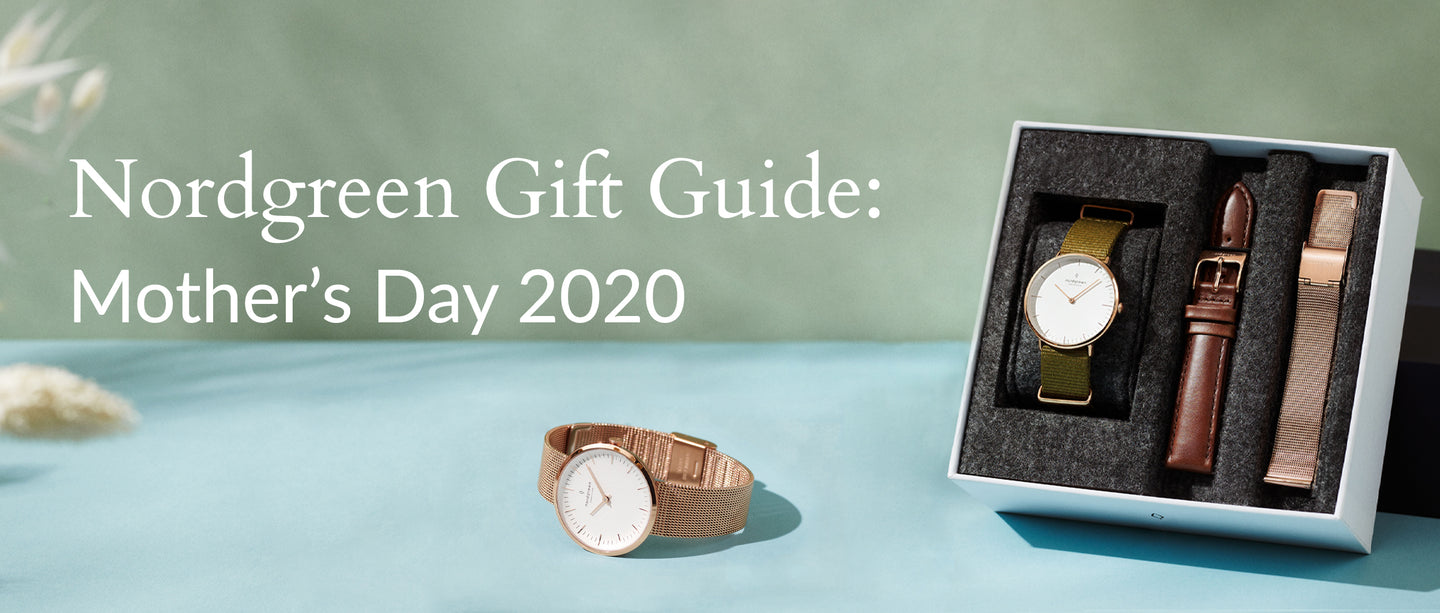 Nordgreen Gift Guide: Mother's Day 2020
Though Mother's Day is roughly two weeks away, we'd like to give the early bird shopper and the procrastinator some ideas of what to buy your mom for Mother's Day. And if you're looking for the perfect customized Mother's Day gift, Nordgreen bundles are an excellent way to express your love for your mom.  

Do You Remember When?
Since your grade school years, you've given your mom hand-crafted gifts as her Mother's Day present. Why stop now? Giving your mom a Nordgreen watch is no different. I'm sure that your mom would still receive your gifts with joy, so why not make it something that she could cherish for a lifetime along with the beautiful memories of you that you've given her? We want to help you out with some stylish gifts, perfect for moms on Mother's Day. 
Selecting The Perfect Nordgreen Watch For Mom
Dial Sizes
Finding the perfect watch size for your mom is simple. Our women's sizes range from 32mm-36mm. Our 32mm sizes in our collection are the most popular, with an exception for the 36mm Philosopher watch, which I'll explain momentarily.
Why Choose A Bundle?
In addition to choosing the watch model, you get to select the dial color, and a strap to go with her watch, or you could give her a gift bundle. Gifting your mom with a Nordgreen Bundle will provide her with the option to interchange between watch straps, and coordinate her attire and accessories. 
Choose 1 or 2 extra straps to build your Bundle and save up to 20%. We'll even wrap it in our gift boxes, made from recycled and upcycled materials. 
32mm Infinity Bundle, Rose Gold Case, & Two Extra Straps
The most popular Bundle for women is the 32mm Infinity with a rose gold case, and white and blue Genuine Italian Leather, interchangeable straps. The Infinity is a work of art with a bowl-shaped dial that curves upward. The hourly marks follow the curvature of the dial, accenting its beautiful design.
With two extra straps, your mom will keep her friends guessing how many watches she has. It's the smallest case size in the Nordgreen collection, which means this is perfect for small wrists, or the mom that doesn't want her accessories to be too flashy but gets just enough attention from onlookers.
32mm Native Bundle, Rose Gold Case, & Two Extra Straps
The 32mm Native Bundle With A Rose Gold Case & Two Additional Straps has a timeless design balanced between aesthetics and functionality. Your mom will love the Native's rounded dial and transparent minute marks that appear under direct light. What's interesting about this Bundle is the army green nylon strap, the brown leather strap, and the rose gold strap, giving your mom more options and different strap materials to work with.
32mm Native Bundle, Rose Gold Case, & One Extra Strap
One Additional Strap is perhaps for the mom that has two modes - dressy and laid back, and who enjoys the classic, soft feel of leather, or the classy and clean look of a rose gold mesh strap. As for the Native's classic design, it's a nice compromise for the choosy mom.

36mm Philosopher Bundle, Silver Case, & Two Extra Straps
My favorite model from the Nordgreen collection is the Philosopher, and when you look it over, you'll most likely agree! Let's start with the conically shaped case that sits broader at its base and is elevated above the lugs. The Philosopher's two-piece dial draws your eyes to its center to its asymmetrical second hand that looks like it's slicing effortlessly through time. 
If you're looking to make your mom feel super special, I'd go with the 36mm Philosopher Bundle With a Silver Case & Two Additional Straps. The Philosopher in 36mm is the best size to enjoy gazing at its captivating dial, and due to the shape of its case, it won't seem too big. With a silver case, the Philosopher goes great with the classic brown and black leather strap. Go with a silver mesh strap and keep your mom looking sharp and trendy.
By gifting your mom with a Nordgreen watch, she'll brag about her new watch to her friends and your siblings if you have any, and let's face it, every kid and kid at heart loves to hear their moms brag about them! 
Since we're on the topic of bragging, when you gift your mom with a Nordgreen watch, tell her about the unique Nordic design of her watch. Lastly, tell her about the sustainable good that we're doing, and that she can participate in our positive efforts when she registers her watch in our 'Giving Back Program.'
Product Imagery by Esther Günnewig.