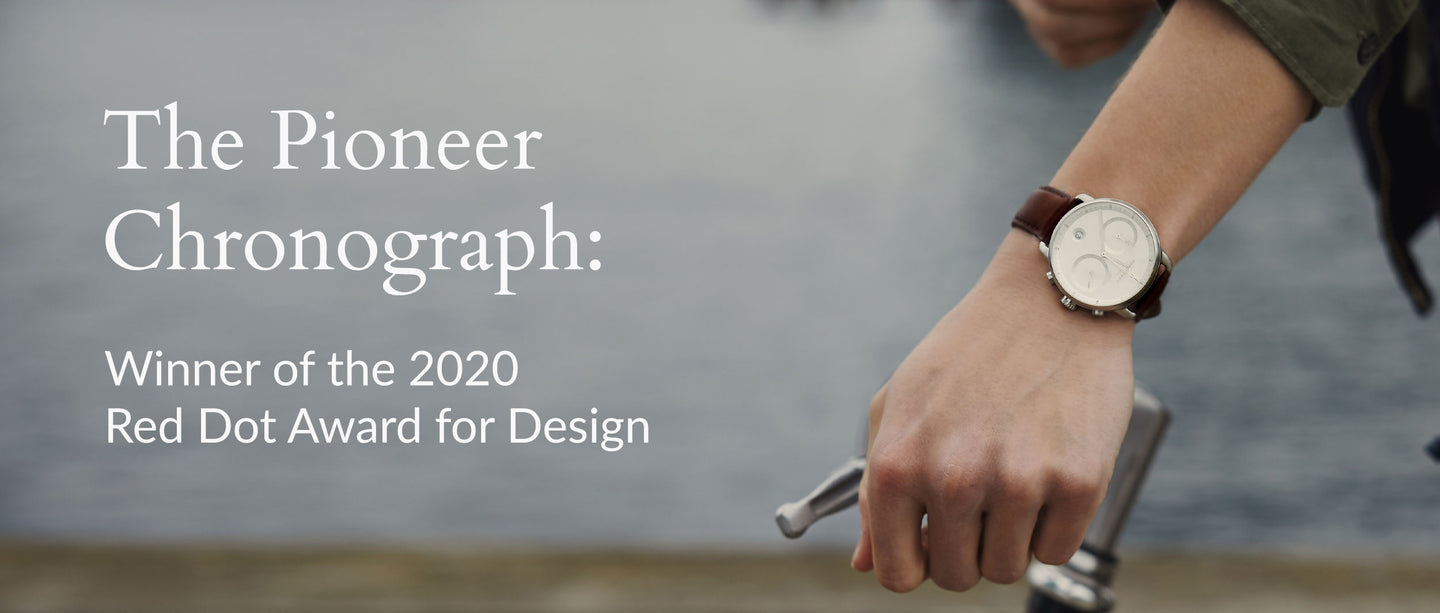 The Pioneer Chronograph: Winner of the 2020 Red Dot Award for Design
Great News!
Since its launch in 2019, the Pioneer Chronograph has become one of Nordgreen's top-selling men's designer watches. We are thrilled to announce that as a result of its popularity both for its design and price, Nordgreen and its Chief Designer Jakob Wagner have been awarded the 2020 Red Dot Award in the Design category for the Pioneer Chronograph. This is Jakob Wagner's fourth Red Dot Award to date, so hats off to him! 
About Red Dot 
Red Dot follows a 60-year German legacy that was initially called "Verein Industrieform" and later "Design Zentrum Nordrhein Westfalen," before it became its' current name, Red Dot, in 1991, by Professor Dr. Peter Zec. The union began as a national exhibition of innovative designs from around Germany. 
In 1992, the first Red Dot Award was given as the organization sought to shift focus to a global scale. Under Professor Dr. Peter Zec, Red Dot is recognized as a worldwide award for Product Design, Brands and Communication, and Design Concept for designers and businesses from over 60 countries with nearly 7000 products to compete and showcase their innovative works.
Qualifications for the Red Dot Award in Design
There were 6,500 entries for the 2020 edition of the Red Dot Award, so you can imagine our excitement in being one of this year's winners of the Red Dot Award. Becoming a winner in this world-renowned design competition, designers and businesses are judged on the excellence of their products in both aesthetics and functionality. Each entry is assessed by the materials they use, ergonomics, craftsmanship, and surface structure, and finally, its design. 
What's innovative about the outcome of winners is that the winning designs set the pace for future designs in their respective industries upholding Red Dot's motto, "In search of good design and innovation." Winners of the Red Dot Award are added to an online yearbook of winners from their category and put into the Red Dot Design Museum Essen in a show called, "Design on Stage."
The Pioneer Chronograph, by Nordgreen
The Pioneer is Nordgreen's take on a Chronograph, celebrating the Danish tradition of Science for Humanity, which aims to create positive change for humankind, thus working towards a greener future. Denmark is a global pioneer in green technology advancements, driving change, and inspiring nations across the globe to do the same.
The Pioneer's makeup is striking in its simplistic design. We rounded and softened its edges, for a sophisticated take on a classic timepiece. Combined, the sub-dials, the stainless steel case, and the domed sapphire crystal embody the resilience of Danish innovation.
The minimalist, clean dial is synonymous with the sustainable environment that we strive to live in. The Chronograph second and minute hand indicated by the red tips are representative of those found on wind-turbines, reminding us of the bond between Nordgreen and the sustainable outlook of its homeland.
Nordgreen would like to thank Jakob Wagner, the Nordgreen team, our customers, and finally, Red Dot for this prestigious award.
Photo Images by Esther Günnewig.