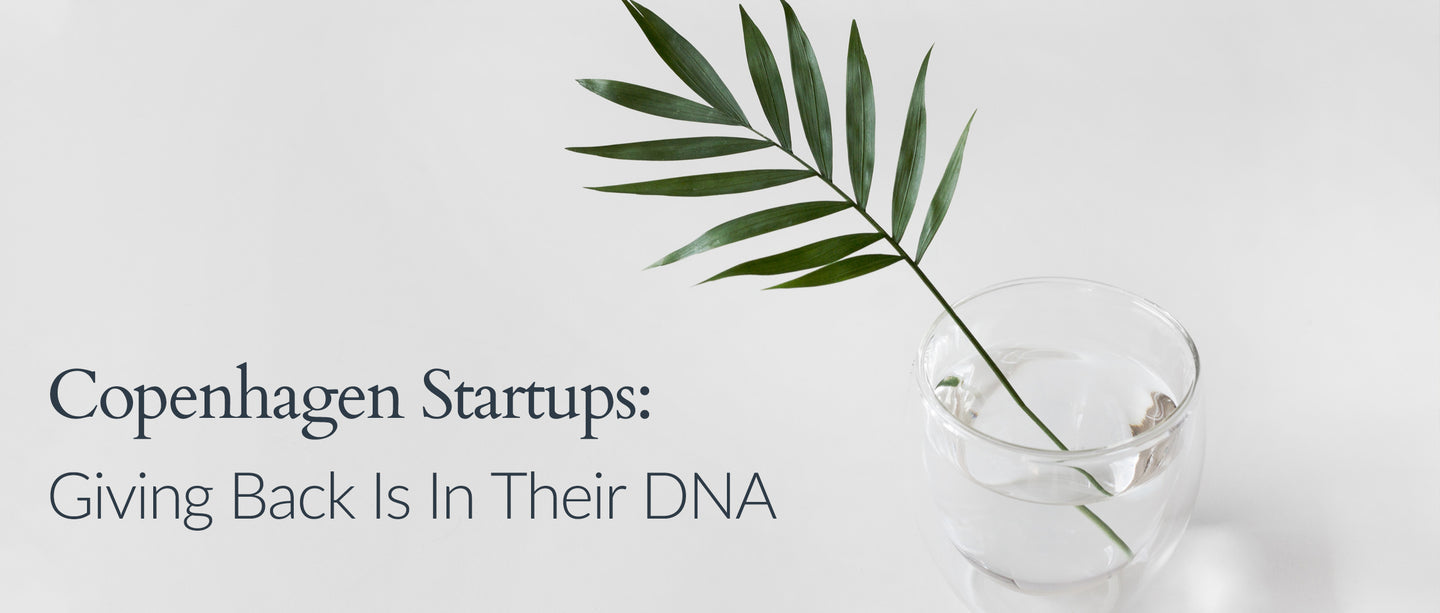 Copenhagen Startups: Giving Back Is In Their DNA
If you've ever wondered about the impact of a small startup on sustainable practices, then you want to read about Blazar Capital's portfolio! 
Blazar Capital is a venture capital who's carbon-neutral offices are located in the heart of the bustling Danish capital, Copenhagen. The Danish venture capital provides support to a growing number of startups, such as Nordgreen, Messy Weekend, Project Nord, The Plant Era, and several others. As it allows for support to these steady rising stars, it's essential to take note of each of their own CSR initiatives to support social and sustainable efforts around the globe.
Small But Impactful
While Nordgreen, Messy Weekend, Project Nord, and The Plant Era's values united behind their social and sustainable initiatives deeply rooted in Danish values of health, education, and environment, their respective approaches vary.
The Plant Era
In January of 2020, the Plant Era launched it's plant-based, plant-based workout supplement.
According to the Plant Era's spokesperson, a vegan diet is better for the environment and lessens our output of carbon dioxide emissions and is better for our long-term health.
Though they are newcomers in the startup world, the Plant Era is forging their path ahead on how they are planning to implement their CSR program and their thoughts on more organizations following suit. 
Eat Less Meat & Dairy
In a statement the Plant Era's founder Nicholas Orsini said, 
"New businesses have an obligation to build sustainable initiatives and solutions, and it's up to mature businesses to jump on board as well. I think if the Plant Era can inspire people and give them an option to global warming, to lessen that, then that will make a much bigger difference in terms of the environmental footprint; just reducing that over your lifespan can make a big difference." 
The Plant Era's promotion of their plant-based supplement is an additional way that the young startup plans to take on their CSR program, and for them, it starts with reducing people's meat and dairy consumption. 
Meat and dairy production and consumption are perpetuating environmental challenges. The Plant Era tasks its CSR program to health and to offset carbon dioxide emissions. The Plant Era's sister startup, Project Nord, continually works to reduce its resource impact by sourcing news ways to print poster art! 

Project Nord 
Project Nord approaches sustainability both through transparent sourcing of materials, supply and demand, and a responsibility program. The result is a carbon-negative startup that envisions doing more. 
Recycled paper was one of the first ideas that the founder of Project Nord, Greta Dobai thought to implement as a sustainable practice for the ambitious startup. However, after further investigation, she found that recycled paper would comprise the color and thus the quality of the prints, so she decided to source paper products that are (FSC) or The Forest Stewardship Council certified. The FSC only uses paper from trees explicitly planted for printing paper.  
What Warehouse?
Taking their sourcing practices one step further in a more sustainable direction, Project Nord doesn't have a stock of their prints. Project Nord has specific traditional merchandising methods of producing a surplus of their product, and only prints on-demand, lowering carbon dioxide emissions related to transporting their product from their warehouse and from allowing the unused printed product to sit going to waste endlessly.
One Poster, One Tree
Working with Tree-Nation to offset carbon dioxide emissions, Project Nord has offset their emissions to be carbon negative, which, even for a small startup, is astounding! While some of their competitor's CSR programs only plant a tree once they've reached a certain amount, which could be hundreds of posters, Project Nord plants a tree for every poster that they sell. Customers will then be able to see the species of the tree and where it's been planted, keeping their CSR initiatives transparent and reinstalling hope for a greener tomorrow.
More Sustainable Goals
As if it wasn't enough that the artsy startup has gone carbon neutral, it continues to seek out more sustainable ways of doing business by working toward solutions to change their packaging to paper-90%paper, with the obstacle of removing the use of tape in packaging. Our next startup from Blazar Capital's pool of eco-friendly talent comes from Messy Weekend, who has taken to the Pacific Ocean off the coast of Colombia to make its environmental changes.
MessyWeekend
Just because their name is a call sign for youthful expression and wild times, doesn't mean that this team of internationals is slacking! In addition to their snow goggles and sunglasses collection, MessyWeekend has rolled up their sleeves and headed to South America to give back. The brand is co-created by Blazar Capital which is founded by Christian Arnstedt, Vasilij Brandt and Pascar Paramasivam.
The current CSR program trend for organizations today is to find an NGO partnership and donate a portion of your sales to fund their social or environmental cause, but MessyWeekend went further than that. 
Plastic And More Plastic
As the villages in Amazonas throw out their plastic waste, it runs off into the ocean. Because of the Gulf Stream, waste is also coming from Asia. There are no recycling stations set up, so imagine the accumulation of plastic waste! 
Why Don't You Donate To An NGO? 
Ambitious in their efforts, the eyewear startup partnered 50/50 with 4THEPLANET, formerly PROARTSO, to do a little good for the Pacific Ocean coastline of Colombia. MessyWeekend decided to do the partnership with the NGO, unlike merely donating money, where the NGO takes care of the charitable activities, which means that they are directly involved in the initiatives as well as donating monetarily. 
"We felt that we wouldn't get enough bang for the buck. It's very costly (CSR programs). NGOs have a lot of reporting and a lot of administration costs related to their CSR efforts." - Morten Heick, Co-founder of MessyWeekend
The MessyWeekend team frequently travels to the South American region to be a part of the initiatives, and even their influencer, DJ Natalia travel to these locations to lend a hand, building trust with the locals and transparency of their participation in the region.
A Lasting and Positive Impact
MessyWeekend has two initiatives to their clean ocean efforts: 
Educate and take schools and groups out on beach cleanups(plastic)-helping to solve, through realizing the impact; then they make art installations from some of the waste, to create a long-term impact.
Create recycling plants in some of the villages, a longer termed project, in ordinary small villages in the region. They have calculated that the income that they could get from recycling the plastic could be enough to support 3-4 families, taking one village at a time.
The goal is to create a self-supporting ecosystem that can better maintain the plastic waste in the area.
Help Them Clean Oceans 
For every pair of eyewear purchased from MessyWeekend, two kilograms of ocean plastic will be collected, which creates another channel of transparency for the hip startup.

Nordgreen
Our last startup is no stranger to our readers, Nordgreen. Three Danish values that inspire Nordgreen's sustainable practices - health, education, and the environment - what Denmark offers its citizens, is the 'why' to what Nordgreen does, practices. 
Denmark Sets The Example
When digging deeper to find solutions 'why,' the watch company found it necessary to look at its brand identity-perception and how it could make an impact in an area that you believe in. 'Donating' isn't the word to use but instead how the CSR can be integrated into the organization, the history of the welfare society. 
What Makes Them Tick
Nordgreen aims to create a true Danish design company - Danish designers, high-quality aesthetics. The Danish watch company plans to pioneer the next wave of Danish design, which is symbolic of the watch representing the value of the society. One of its sustainability goals for the company includes localizing Nordgreen by relating its brand strategy and products to customers in regional markets. 
Three Ways To Give Back
While Nordgreen is regularly partnering up with and donating to charities during its campaigns, they have three consistent NGO partners for their customers to donate a portion of their purchase toward Pratham UK, Water For Good, and Cool Earth.
"Cool Earth works to combat deforestation in the Latin American Rainforests. Cool Earth provides skills to locals of the Rainforest regions to not only tackle the threat to our planet but to care for the land." 
"Pratham UK is an education charity which focuses on India. There, the charity provides literacy and learning programs, vocational training, research, and advocacy programs and focuses on girls' education as the gender imbalance and societal norms have established." 
"Our third charity partner, Water for Good, strives to create healthy water    solutions for the Central African Republic, which by doing so, supports an infrastructure where its citizens can maintain their health, thus improving their chances to work and generate income." - Nordgreen, 2020.  
Blazar Capital and its startups are not only working to help solve global challenges that we all may face, but as well to inspire others, no matter the stature of their business, or whether you're a single individual, to give back. 
Building any CSR initiative begins with wanting to do some good, whether it's for your direct community or around the globe. Small businesses can make a significant impact on the world around them, as well as influence a newer and necessary way of doing business.