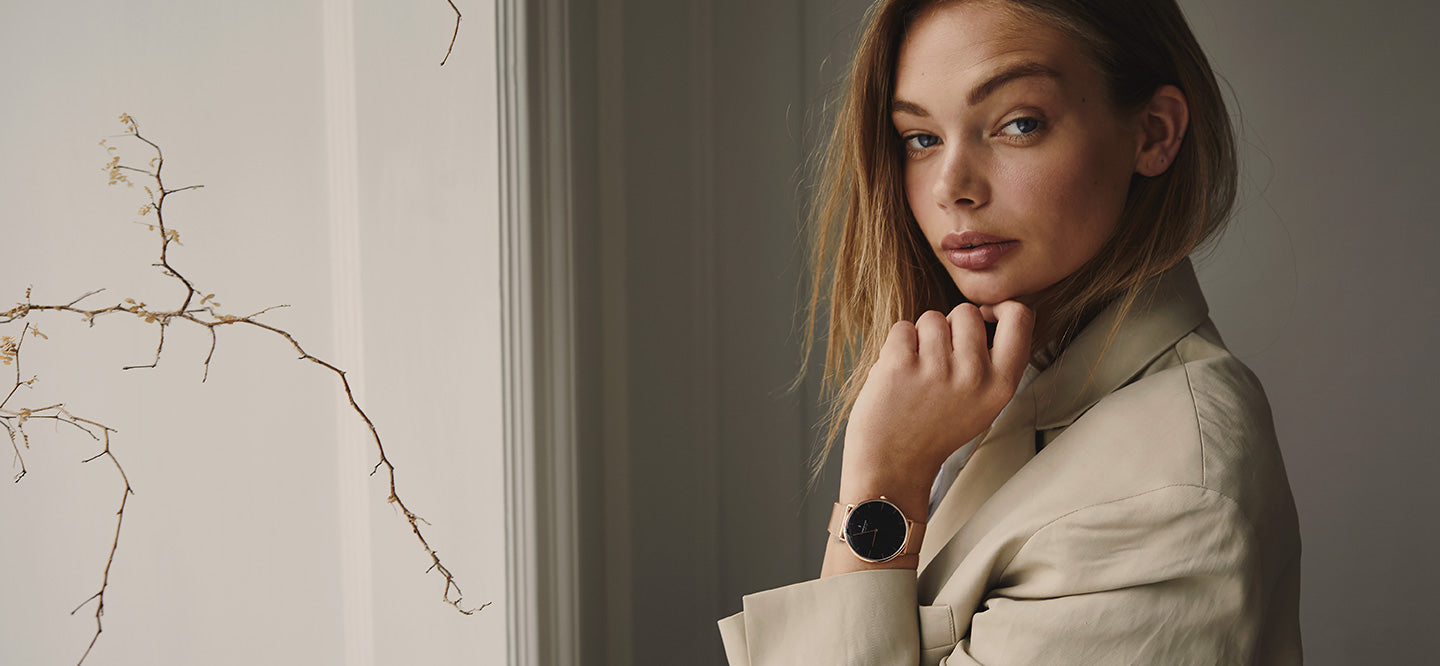 What's On In Copenhagen: November 2019
November in Copenhagen is a beautiful sight of transition, as the leaves have already turned to bright orange, red, yellow, and brown. As we fall into November in Scandinavia, so will the hours in the day, losing almost 2 hours of daylight over throughout the month. If this shift in daylight is distracting to you, then you'll want to keep yourself busy! Nordgreen wants to help keep you busy; here's a list of diverse events that are happening around Copenhagen!

 
Already thinking about Christmas shopping? Then, check out
Nordgreen's selection of designer watches
at affordable prices and sign up for their mailing list and get the jump on your holiday shopping with our Black Friday deals!
Here's a list of some of the coolest events around Copenhagen:

Thursday, October 31st - Friday, November 1st 2019
Anne Black Lagersalg (Warehouse Sale) København

Time: Thursday October 31st - 12.00 - 18.00 & Friday November 1st - 10.00 - 17.00
Location: Vesterbrogade 14b, in the basement.
If you're one of those who likes a good sale on quality Scandinavian designers like porcelain maker Anne Black, then this is for you! Save 50-70% off hand-made porcelain vases, home furnishings, and jewelry, as well as support an organization that is working toward becoming carbon neutral!
Friday, November 1st 2019
The Fabulous 5to8's @ Café Bopa
Time: 22.30 - 02.00
Location: Løgstørgade 8, 2100 Copenhagen
If you're looking to start your weekend off on the 'good foot' and enjoy some funky grooves, then come to Café Bopa, and bring your dancing shoes! (it's free) 
The 5to8's are a Copenhagen collective of musicians and singers playing live soul, hip hop, reggae, and funk music. Original material, music created on the spot, and jams over hip hop and soul classics make up the shows. No two nights are the same.
Hang out with: Kuku Agami – Capt'n / emcee, Jaleesa Johnson – vocals, Jonas Rendbo – vocals, Jonas Winge Leisner – vocals, Mogens Palsbøll – bass, Phong Le – keys, Vicky Singh – guitar, Kristoffer Sjelberg – drums.
Friday, November 1st 2019
Annual Bazar @ Karmameju Skincare
Time: 08.00 - 18.00
Location: Rentemestervej 62, 2400 Copenhagen
Then the time has come to put a big, nice cross in the calendar. On Friday, November 1st, we will once again open the doors to our semi-annual BAZAR. And you're invited!
Come and meet us and 15 other great brands from 6 p.m. to the best shopping event of the year. You can shop for skincare products and loungewear from Karmameju in discontinued packaging, 2nd grading, and color-changing packages.
So come on, if you are missing out on pampering for yourself, skincare advice from our cosmetologists - or get a glimpse at the Christmas gift lists to have a relaxed December this year. We look forward to seeing you!
PLEASE NOTE: THE BAZAARS HAVE TWO ADDRESSES:
KARMAMEJU AND JULIE WETTERGREN WILL BE SOLD ON RENTEMESTERVEJ 62, 2nd Floor & THE REMAINING BRANDS  ON RENTEMESTERVEJ 43.
Our new premises are on the 2nd floor without an elevator. It is, therefore, not possible to have a stroller.
Saturday, November 2nd 2019
Day of the Dead Festival: Husk Mig! @Musikmuseet
Time: 10.00 - 16.00
Location: Rosenørns Alle, 1970 Frederiksberg, Frederiksberg, Denmark
Remember Me - The Day of the Dead is a cultural festival organized by CkulturA, which invites audiences of all ages to commemorate their dead and reflect on death, in true Latin American manners. Free to the public.
The music museum is part of the festival with a lot of activities.
Come see a real Mexican 'Day of the Dead' altar. Experience and hear how Mexicans commemorate their deceased. 
Sunday, November 3rd 2019
Clinton Fearon, support Ministry of Harmony @Loppen
Time: 20.30 - 02.00
Location: Sydområdet 4B, 1. sal, 1440 Christiania, København, Denmark
Tickets: l260 kr.
Wrap up your weekend rockn' steady with the music of Jamaican musician Clinton Fearon. He joined the legendary band "The Gladiators." One of the heavy boys in the reggae genre.
Ministry of Harmony is the supporting act at the concert. Come and experience a delicious reggae party - a musical warm light in the dark autumn season.
Tuesday, November 5th - Thursday, November 7th 2019
Warehouse Sale for Angulus Shoes & Michelle Carlslund Illustrations
Time: Tuesday 11.00 - 17.30
           Wednesday 11.00 - 17.30
           Thursday 11.00 - 17.30
Location: skydebanegade 1 1709 københavn V
COME TO ANGULUS & MICHELLE CARLSLUND POP UP STORE SALE!
Are you crazy about quality shoes and great illustrations? Then this is the stock sale you need to spend time on. Come to 3 WONDERFUL days with sample and stock sales from ANGULUS & MICHELLE CARLSLUND. Angulus, as always, comes with nice footwear. Usually mainly for children and women.
Michelle Carlslund comes with lots of nice posters and frames but also children's books, toys, and textiles. As always, you can expect WILD discounts. Often up to 70% off compared to normal store prices!
Wednesday, November 6th 2019
Louisiana Live @ Louisiana Museum of Modern Art
Time: 19.30
Location: Concert Hall, Gammel Strandvej 13, 3050 Humlebæk
Tickets: Free for museum guests. Please reserve a seat.
Reunited? Die Zeit-editor Josef Joffe on Germany 30 years after the fall of the Wall. November 9, 1989, was a "Glücksstunde" for both Germany and Europe. The wall fell, and the continent's division into east and west was soon to be in the past. But around the European capitals, there were concerns. A reunited Germany in the middle of Europe? Could the ghosts of the past come to life?
Thirty years later, we look at our great neighbor to the south. Is Germany today a financial giant or a political dwarf who avoids war and conflict - and what happens when Angela Merkel soon leaves her role as chancellor?
Hosted by Marc-Christoph Wagner, we ask the German journalist and writer Josef Joffe, who is the publishing editor of Die Zeit newspaper and teaches international politics at Stanford and Harvard.  
Please note that this event will be in English.
Friday, November 8th 2019
Simply String Quartet @Louisiana Museum of Modern Art
Time: 20.00
Location: Gammel Strandvej 13, 3050 Humlebæk
Tickets: 125 kr. + 10 kr. fee
Simply String Quartet, which today consists of Danfeng Shen on violin, Antonia Rankersberger on violin, Xiang Lyu on viola, and Ivan Valentin Hollup Roald on cello, was formed in Shanghai in 2008. The quartet has won numerous competitions, including The Haydn Competition in Vienna 2017 and, most recently, the Bordeaux International String Quartet Competition 2019.
Tonight's program features Haydn's String Quartet. 76/5, Shostakovich's String Quartet No. 3 and Mendelssohn's String Quartet op. 44/2. 
Friday, November 8th 2019
Tyler Ramsey and supporting performance by Jacob Faurholt @ Vega
Time: 19.00 - 23.00
Location: Enghavevej 40, 1674 Copenhagen
Tickets: 150dkk / +tax
American songwriter Tyler Ramsey, a former member of the successful American musical group, Band of Horses, released his fourth studio album in May, entitled For The Morning. 
Ramsey has produced the album himself, delivering phenomenal guitar playing and atmospheric lap steel guitar. The first single "A Dream of Home" was written on a Band of Horses' tour, in a hotel room in Nashville, where the longing for family and hometown was at its peak. Shortly after, he decided to quit the band and devote his time to his solo career. He has spent most of 2019 touring with a.k.a. Beach Of Oaks.
Support: Jacob Faurholt
Songwriter Jacob Faurholt has released more than ten solo albums and in his experimental project Crystal Ships. His latest solo album, Shake Off the Fear, was released in September. The songs are about life, the love, and the anxiety that can follow. Always with an immediate and personal approach with a nod to role models like Daniel Johnston, Conor Oberst, and Sparklehorse's Mark Linkous.
Saturday, November 9th - Sunday, November 10th, 2019
Fleamarket - Loppemarked I Bella
Time: Saturday 10.00 - 17.00 & Sunday 10.00 - 16.00
If you enjoy rummaging through unique items at a flea market, then check out how the Danes do it! Experience Denmark's largest flea market exhibition with activities and recycled items for you to choose from and get some of your Christmas shopping done!
Saturday, November 9th 2019
Jamaican Winter Bash @Dexter's 
Time: 17.00 - 02.00
Location: Åboulevard 9ab, 1635 Copenhagen
Tickets: 70  (including exclusive welcome drink)
Dexter's was founded in Copenhagen by Dexter Ricketts on September 2015. Dexter's bar is the perfect place for everyone who loves delicious drinks, great music, and a lovely atmosphere. An exceptional experience every time! We invite you to pass by November 9, as we host a Jamaican Winter Bash for you to enjoy the Jamaican culture and the cozy atmosphere even during the cold days of Denmark. There will be special offers on beverages during the night and a menu in which you will be able to purchase Jamaican delicacies.
We look forward to seeing you all vibing with us at your favorite Caribbean bar. 
Saturday, November 9th 2019
TEDxCopenhagen 2019: Expect The Unexpected
Time: 13.00 - 19.00
Tickets: General admission 650 kr., student 550 kr. 
Ticket link: http://ow.ly/w9Om50wQyhv
Join #TEDxCopenhagen for a day of unique talks with 'Ideas Worth Spreading.' Our speakers cover a various number of aspects in life - from technology and science to personal experiences and entertainment, up to global and social issues.
THEME: Expect the Unexpected. As Humans, we are the dominant force in shaping the planet. But as a result of rapid social, scientific, and technological advancements, which has brought humanity both security and anxiety, we need to face a new reality.
Join us when we explore ideas to guide us through a precarious era in human history – an era shaped by rapid and intersecting technological advancements that impact our everyday lives on an unprecedented scale.
Saturday, November 9th 2019
Time: 19.00 doors open,  20.00 showtime
Location: Enghavevej 40, 1674 Copenhagen
Tickets: 165 kr.+tax
For almost two decades, folk singer Willie Watson has helped to shape modern folk music and is deeply rooted in the rich history of folk music. He is a folk-singer in the classical sense: a singer, storyteller, and traveler with baggage filled with songs that embrace both the future and the future. On his latest album, Folksinger Vol. 2, he interprets older folk songs and gives his command to the sound of his predecessors.
Folksinger Vol. 2 expands Willie Watson's sound and emphasizes his strengths. Along with names like Gillian Welch, Paul Kowert of the Punch Brothers, and former band colleague Morgan Jahnig (Old Crow Medicine Show), he puts the album under his current talent.
Thursday, November 14th - Friday, November 15th, 2019
Selene Muñoz @ the Louisiana Museum of Modern Art
Time: 20.00
Location: Gammel Strandvej 13, 3050 Humlebæk
Tickets: 250 kr.+10 kr. fee
Award-winning dancer and choreographer Selene Muñoz will guest perform on the 14th and 15th of November 2019 at the concert hall at the beautiful Louisiana Museum of Modern Art in Denmark.
She will bring some of Spain's most fantastic flamenco musicians, where they will present an elegant and powerful performance where passion and musicality will bring the audience on an unforgettable journey. 
Selene Muñoz: Dance and choreography, Jesule Losada: Guitar, Roberto Lorente: Flamenco voice, Maria Berasarte: Lyrical voice, Pablo Rubén Maldonado: Piano, Stephan Jarl: Percussion, Costumes By Luna.
Friday November 15th 2019
Elton John Gospel Choir Natkirken
Time: Doors open 18.00 and 19.00 showtime
Location: Niels Hemmingsens Gade 5, 1153 Copenhagen
Free Admission
Gitte Degns Elton John Choir sings the music of Elton John in the Night Church on Strøget.
Band: Nicolai Wendelboe, grand piano, Charlotte Lembourn, percussion, Lise Lotte Elmelund, bass. Jens Biegel-Fogh is the priest of the service. Everyone is welcome.
Sunday, November 24th, 2019
Aldous Harding (NZ) + Support: Yves Jarvis @ DR Studie 2 
Time: 20.00 - 23.00
Location: DR Koncerthuset, Ørestads Boulevard 13, 2300 København, Denmark
Ticket price: 230dkk+tax, 
Ticket link:  http://bit.ly/2Vp5sgM
Aldous Harding, one of today's most original and critically acclaimed folk artists, returns to Copenhagen, Denmark, and Studio 2 in DR Koncerthuset on November 24 with her alluring voice and the new album 'Designer' in the luggage.
The New Zealand singer and songwriter with one of the most marvelous and almost chameleon-alto voices hit the international stage in 2017 with the acclaimed 'Party' following up on the self-titled debut album of 2014. Earlier, both Magstræde and Jazzhouse stage edge for Aldous Harding, and now the Wales-based singer is coming to Studio 2 with brand new material that has been met with numerous roses from an enthusiastic press.
SUPPORT: YVES JARVIS
Yves Jarvis is the warm-up act for the Aldous Harding concert. Yves Jarvis has previously released an album under the name Un Blonde, which fell into good ground with critics. The change comes after the Montreal-based musician could no longer identify with the music under the old artist name and, with the shift to Yves Jarvis, instead worked his person into the music more:
Monday, November 25th - December 1st, 2019
The Best Black Friday Watch Deals In 2019 @Nordgreen 
If you're thinking, "do we get watch deals on Black Friday?" The answer is yes! Starting from November 25th and up to Sunday, December 1st, Nordgreen will offer watch deals on Black Friday 2019! Here's a preview of Nordgreen's men's and women's watches that will be hard to pass on once you see the deals we're offering!
Nordgreen offers various assortments of dial colors, watch sizes, and straps. Our combinations can help you personalize your timepiece and help you put the finishing touches on your perfect outfit.
Friday, November 29th, 2019
Cristina Branco @ the Louisiana Museum of Modern Art
Time: 20.00
Location: Gammel Strandvej 13, 3050 Humlebæk
Tickets: 275 kr. + tax
Internationally acclaimed fado singer Cristina Branco performs on stages throughout the world and has released a  number of prize-winning records. She is known for her elegant voice and rare ability to combine elements from this traditional Portuguese genre with a highly personal and innovative touch.
Christina Branco will perform in the Louisiana Concert Hall accompanied by Bernardo Couto, Portuguese guitar, Bernardo Moreira,  bass, and Luís Figueiredo, piano.
Ongoing Events Through November
October 11th - November 3rd, 2019
If you didn't get enough of the Halloween spirit, Tivoli Gardens has a Halloween display that continues until the 3rd of November 2019. You'll want to get a move on it because their Christmas display will go up after that! They also have an app that keeps you up to date on their daily program, an option to purchase an annual card, and more!
Friday 15th  November - Saturday 22nd December 2019
Deutsch (German) Christmas Market
Opening Hours:
Monday to Wednesday: 11.00 – 19.00
Thursday 11.00 – 20.00
Friday: 11.00 – 21.00
Saturday: 10.00 – 21.00
Sunday: 11.00 – 18.00
Get a jump start on the Christmas cheer at the Christmas market in Højbro Plads. 
Experience a good old-fashioned Christmas with Christmas trees and decorations, 80,000 sparkling Christmas lights, secret pixies, reindeer, and Santa's sleigh. Visit Copenhagen's charming Christmas village.
Children and adults have a chance to meet the Christmas market's own Father Christmas every Tuesday to Sunday between 1 and 5 pm. Here you can have pictures taken with Father Christmas for free.
November 1st - November 29th, 2019
Alice Cph is an experimental venue that brings you artists from around the world playing interesting genres like electronic, experimental, global, jazz/improv, and roots. Supported by the Danish Art Fund and Copenhagen Cityhall, Alice Cph is engaged in supporting the community renting its space for external events.
For more info: sidse@alicecph.com.