HOW TO GET THE BEST OFFER?
Use code [MARYANNE] and get 15% off on top of all website offers !
As always, free shipping remains included in all offers.
What's a better deal than that?
Mary
Anne
Mary-Anne is a graphic designer and content creator based in New York. She has experience in branding, user interface, web design, typography, and illustration. Mary-Anne loves collaborating with people to help take their brands to the next level and to find their true voice through logos and graphics. When she is not designing, she enjoys dancing, taking photos, and playing with her two dachshunds.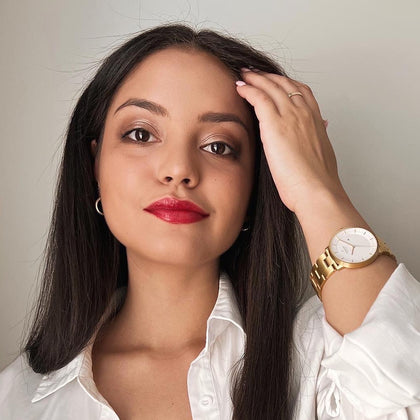 Thoughts on respect & responsibility for our planet & humanity
"You are expressing yourself and your beliefs by the choices you make and the things you wear. When I wear my Nordgreen watches, I want to show that I not only appreciate a minimal design, but I also support the cause. I have a huge amount of respect for Nordgreen's Giving Back Program.
One thing I love is the fact that not only are the watches visually stunning, but the packaging is made of recycled paper and plastic bottles, and is designed to use as little material as possible. It is our responsibly to support sustainable brands and by bringing awareness and making conscious choices about what we incorporate into our wardrobe, we can help the world and make a difference."
Thoughts on Scandinavian design
"I'm all about making things look aesthetically pleasing to the eye, it's what I do. That's why I love Nordgreen's simple, yet timeless Scandinavian design. I believe a watch is the final piece that ties the look all together. It's more than just an accessory, it's a statement."
THE STATEMENT PIECE
The Philosopher
"My favourite watch design is the Philosopher. It was my first Nordgreen watch and the design truly caught my attention. I gravitated towards the modern look and the simplicity of the watch's face with its elegant lines. My favourite touch is the small date display. I love pairing up this watch with the gold 3-link chain strap to elevate my outfits. I always feel sophisticated when I wear this classic piece."