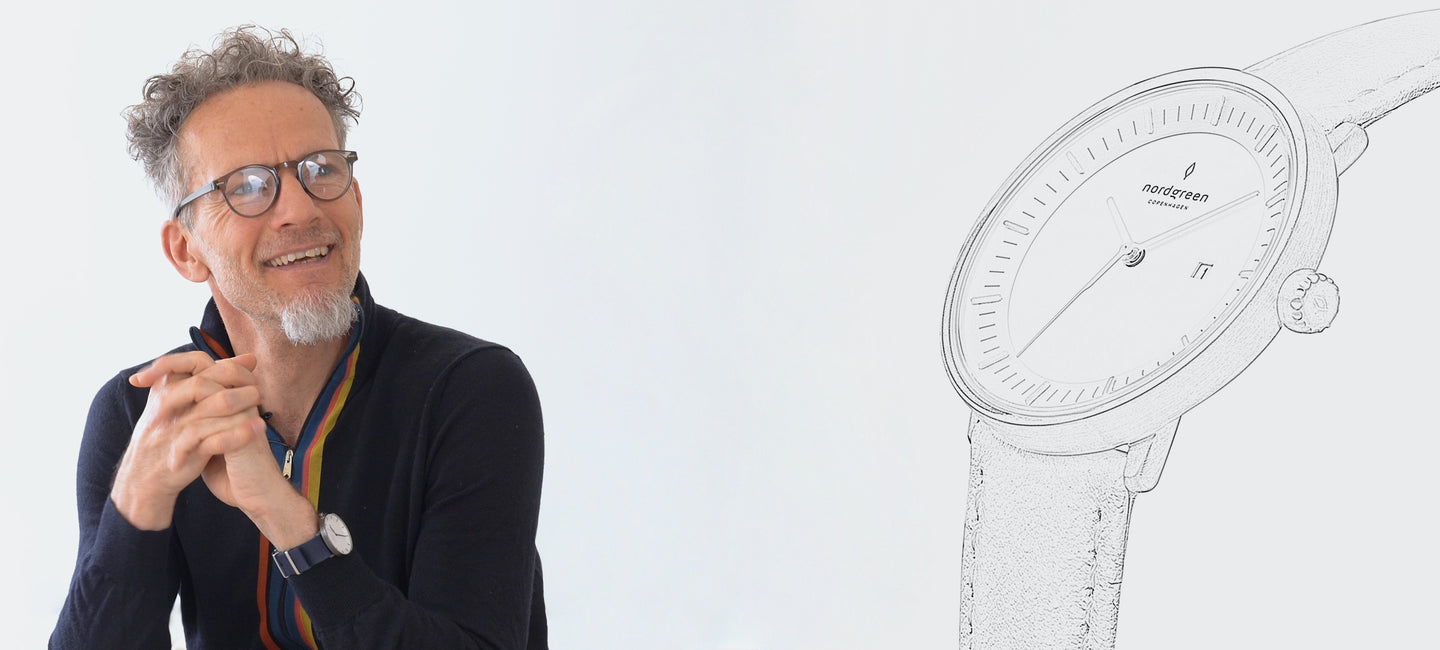 The history of Jakob Wagner
Jakob Wagner remains one of the names to be reckoned with in the design space. Time and again, he has proven that design can be fluid, beautiful, minimalistic, and natural in the way that he has achieved truly inspiring results for different brands.
At Nordgreen, Jakob Wagner heads the design team, which imbibes our goals of sustainability and minimalism to create the collection of watches that shape the expression of the Nordgreen brand – and the customers that trust us to deliver value to them.
Boasting a professional appeal and acute senses of shape, time, and space, Jakob Wagner remains one of the top names in his niche as he continues to challenge the norms to bring something new to different spaces that he works in.
Behind the Scenes of the Jakob Wagner Show
Jakob Wagner was born in Copenhagen, Denmark, and he has allowed the environment to influence his style, decision, and expression of art to this day. Most of his designs are born from Danish principles and natural elements.
However, Jakob Wagner did not just limit himself to what he could see in his current Copenhagen home.
Since he started his design journey until now, he has studied and obtained degrees in different countries. That is only bettered by an impressive internship and work portfolio, which has seen Jakob travel to some of the most design-centric countries around.
Of these, there are his sojourns to Italy, adventures in France, and experiences in the United States, among other notable mentions.
These experiences inspired Jakob to start his studio in Copenhagen, Denmark, as far back as 1993. The studio and art center was born to create truly timeless designs, achieve a higher level of product design, improve the design industry, and offer a unique touch to the market.
Having worked with brands like Bang & Olufsen, Capellini, Muuto, Nordgreen, Moroso, and Hay, to mention but a few, Jakob Wagner continues to make his mark and spread his design element across the world.
A Thorough-Bred Design Genius
At the time, Jakob Wagner might not have known that the two independent degrees he would be getting would come together to shape his thoughts, creative direction, and artistic expressions into what they are today.
Jakob started with a degree in Design Engineering from the Danish Academy of Engineering (now DTU) in Denmark as far back as 1987. The designer then went back to school (1992) to obtain another degree in Product Design from the prestigious Art Center in Montreux, Switzerland.
These degrees alone were enough to shape Jakob into the stylish designer that he is today. However, the experiences he obtained in-class were bettered by the landscapes where he bagged the degrees.
Speaking of his education, Jakob Wagner maintains that "I have a dual background in engineering and design, so you can say both machine and experience, and I find the intersection between technology and human culture to be an interesting place to work."
With Denmark and Switzerland being one of the most inspiring, picturesque, and mind-blowing landscapes around, it was not long for Jakob to imbibe a sense of drawing classy concepts from natural elements around him instead of creating artificial design elements.
His Danish roots also speak volumes of the minimalism and sustainability focus seen in his works to date.
The Jakob Wagner Studio: Where the Magic Happens
Like the man himself, the Jakob Wagner design studio was born in Copenhagen after he had sojourned other countries searching for internships, work, and education alike. All of the experiences that he had gathered so far were enough to start something solid in the home country where it all started.
Having spent more than two decades in the product design space, that studio in Copenhagen has been well-received.
In the first ten years of the studio's operations, Jakob Wagner focused on high-tech products meant for the sports and medical fields. Besides the sports equipment, he also designed professional products for brands like Porsche and Pioneer.
In 2003, Jakob Wagner secured an award and pivoted from high-tech products into the home niche, too, expanding his reach and portfolio.
His talent was well received in this new niche, too, going on to work with all of Capellini, Moroso and Hay, B&B Italia, and more local and international clients than can be listed here.
Perhaps one of the reasons why he remains a darling of international and local companies is how he brings the exquisite Danish appeal into things.
In the man's own words, "One of the important ways that the Danish mindset has influenced Danish design, I think, is the concept of balance. Designing is complex: there are a million different things to take into consideration, and to balance everything out in a way that it becomes a simple gesture is the goal."
The Awards Seal the Deal
The awards don't lie, and they have made their way to Jakob Wagner and his products in the many years he has spent in the product design industry.
These awards are also from reputable bodies like the iF and Red Dot, showing the level of appreciation that the design world holds for the works of this top designer.
To date, Jakob Wagner has earned 3 Red Dot Awards, of which the Nordgreen Pioneer Watches hold one spot; 2 iF Design awards (which also has the Nordgreen Philosopher watches holding a spot), and a Designer of the Year award, among others.
Where Jakob Wagner is not, his products keep making the waves for him. That is the case with his designs being included in the permanent collection at the Museum of Modern Art (MoMA), New York, since 2006.
It takes a lot of genius to be included in the permanent collection of such a prestigious body as MoMA, and we are pleased to be in business with such a forward-thinking, award-winning, minimalism-imbibing Danish designer.