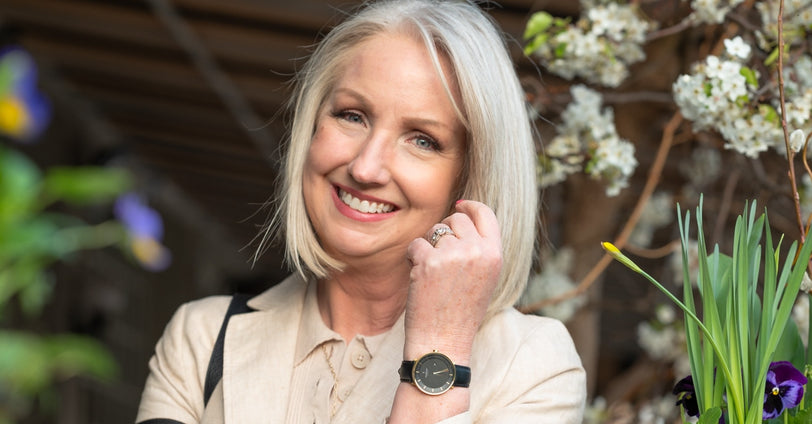 Nordgreen Introducing
Shop KAY's favourites
USE [KAYHRMS]

 

and

 

get 15%

 

off on top of

 

all website offers
Looking for the perfect accessory for the festive season? Use the code [KAYHRMS] and get exclusive 15% off on our entire accessories line.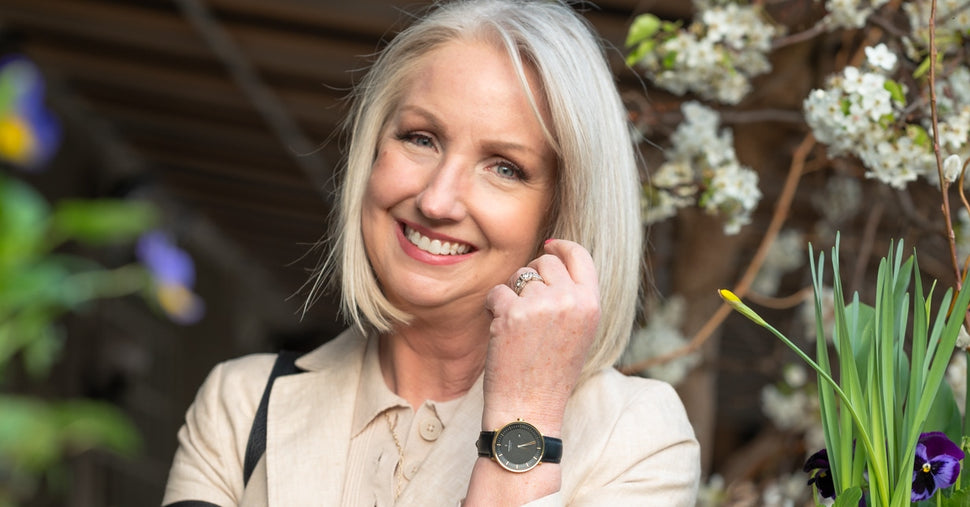 Meet
Kay Harms
Kay is a professional writer and inspirational speaker living in Cincinnati, Ohio, in the United States. She is passionate about helping women 50 and above to get dressed for their days so they can continue to show up big. She believes that women sometimes begin to feel invisible and out of the loop as their children grow up and they retire from their life work. But Kay believes older women still have so much to offer, so she helps them dress modern and fashionably so they can contribute positively to the world around them. Kay and her husband enjoy traveling, hiking and exploring Cincinnati coffee shops.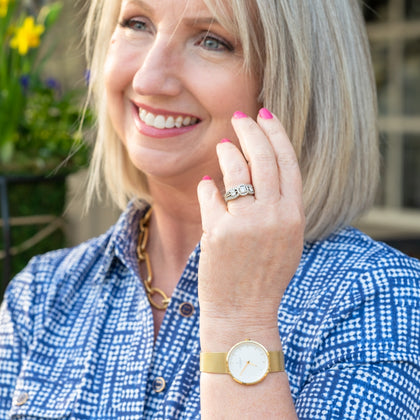 Nordgreen x Kay harms
The Black Agate
Megara Necklace
Elegantly crafted with natural black agate, the Megara necklace combines modern and minimalist design with timeless aesthetic appeal taking inspiration from the ocean with the pendant's marine shape.
This modern necklace is crafted with 35% recycled stainless steel and finished with a long-lasting polished plating for a premium feel.
Use [KAYHRMS] for 15% off on the Limited Edition Megara Necklace.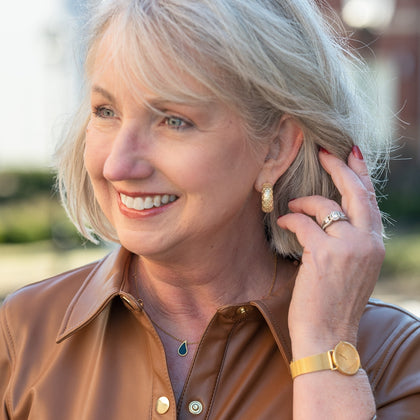 Thoughts on Scandinavian design
"While I like to look current, I prefer a timeless style. That's why Nordgreen's simple but elegant Scandinavian design aesthetic works so beautifully for me. I see a watch as an accessory to my outfits,
so I want one that adds polish and interest. The fact that I can switch out the watch straps, creating completely different looks, is also appealing to me. Nordgreen watches add value to my style."
The
Infinity
I love the Infinity 32 mm watch for its simple, elegant lines. I enjoy wearing my white dial gold Infinity watch with a gold mesh strap when I want to add some light or elegance to my outfit. But I enjoy wearing it with one of my leather straps for more casual occasions. Because this watch is so simple and compact, it looks contemporary. But I know this watch will also add polish to my outfits for years because it is so classic and timeless.

I also enjoy wearing my black dial Philosopher, especially pairing it with a black leather strap. I wear a lot of black and that all black combo makes me feel so effortlessly sophisticated.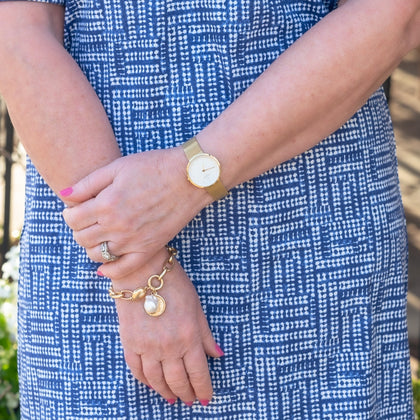 responsibility & sustainability
As a Christian I believe that people are given stewardship of the earth. That means we are responsible for using its resources wisely and caring for it so that our children and grandchildren can also enjoy it. I'm grateful that Nordgreen values people and the planet, and has taken generous measures to help hurting people and be good stewards of the earth's resources.